Recordings
I feel the silence
The story of this CD is born out of my friendship with violinist Rick Koster.
For 12 years Rick and I have worked together as members of the Duke Quartet. Whilst on tour we shared our mutual interests in philosophy and poetry in the coffee houses of Europe.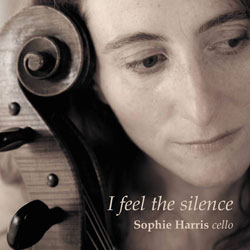 A couple of years ago Rick invited me to his home and studio for tea and a chat which developed into improvising and recording and finally this CD.
This CD is completely improvised in a tiny room, a sort of "one take roulette": to the point where I could almost not bear to alter anything however imperfect it was – London traffic, creaky chairs to name but two intrusions. This is not an airbrushed CD. For me the authentic journey is always paramount – to return to the tradition of a universal language of story telling.
…a remarkable disc … spontaneous music making, unvarnished, honest and, above all, supremely musical.

Bruce Reader, The Classical Reviewer
At the heart of this aural journey is my story. A love of the cello and music from the first string quartet concert I attended aged 3. The gift of being taught and guided from the age of 10 by my "cello Daddy" (an affectionate name given by his beloved Jackie du Pre): metaphysical magician William Pleeth - whom my father had spent years listening to and painting as a boy attending concerts at Conway Hall in London. A terrible near-death infant illness which left me with a personal imprint of synaesthesia - as a child I saw colours around people, which spoke more to me of their feelings than words alone. And now, in my poetry and music making, the sense of unity and somatic completeness in the sensory integration - almost as if we are a broken mosaic of our nascent selves - which for me was triggered by early clinical death.
The cello remains central to everything that goes on - plangent and expressive in 'Purcell' and 'Joaquin', gritty and edgy in 'Kafka', strangely ethereal in 'Icebergs'…

Pwyll ap Siôn, Gramophone Magazine
Perhaps this also accounts for my particular love of cultural Europe of the 2nd Viennese School. Freud, Schoenberg, Berg, Stefan Zweig - the marrying of intellect and heart and the simultaneous hurtling towards the abyss; the prophetic sense that this was untenable, as later born out by Fascism. And an almost atavistic responsibility for my Semitic heritage and for the extraordinary power that music has to acknowledge human suffering and communality.
— Available from MMC and Amazon.
Other recordings
I Send You This Cadmium Red
Recording of Gavin Bryars The Island Chapel
GB Records
Out Of The Darkness
Recording of Gavin Bryars The Island Chapel, Arvo Pärt Spiegel im Spiegel and Julian Marshall Out of the Darkness
Music and Media MMC101
A Man in a Room, Gambling
Includes a recording of The South Downs written for Sophie Harris and played by Gavin and Sophie
GB Records
Biped
Conceived for Merce Cunningham Dance Company
GB Records
Jocelyn Pook (Various)
Solo cello on film scores for Eyes Wide Shut, Time Out (L'Emploi du Temps) and Brick Lane
jocelynpook.com